This is a video I created many years ago that is a tribute to FIVE EASY PIECES. Using still photos (without pausing) as I watched the film, I pieced (no pun intended) together the most resonant parts to an instrumental written many years earlier called FILTH AND CRAP. That song appears on my CD CARROCKSWATERPIERSUN and the single line is the quote from Palm Apodoca.

Thank you for commenting.

Powered by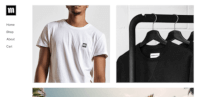 Create your own unique website with customizable templates.